The Four Elements of Business
With Pamela Meekings-Stewart
at The Woolshed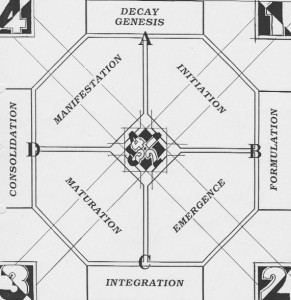 The Four Elements of Business is a workshop for people who deal with other people – in teams and individually.  It has been used effectively by people who run businesses and by trainers, mentors, life coaches and the self-employed.  It is based on a deep but simple understanding of the dynamics of groups or teams and our own place within them. It is important that each of us knows our particular strengths in groups (i.e. our element, our contribution) and that we learn the strengths of people who are not like us (i.e., their element, their contribution and our appreciation of that contribution).
The Four Elements of Business is a workshop about group/team contribution profiling.  It deals with Personality and Process, i.e. how to get the best out of a group or team and how to dynamically move it from idea to completion.  The Personal and the Process contribute to the whole.  Unfortunately, sometimes we not only lose sight of the end (the goals), we lose sight of the beginning (ourselves) as well.   Stress rises, needs don't get met, deadlines scream and what was once the 'dream organisation' becomes the nightmare.  Balance and harmony have fled.
The Four Elements of Business also covers the vital skill of effective communication with different personality types in groups and teams.
I have used the Four Elements' profiling technique and its understanding of process for over 25 years as a producer, putting together film crews from 4 to 125, and as an Event and Project Manager. The Four Elements' process has seen me complete all projects happily on time and on budget. I have equally used this same technique effectively in management training and career planning for over 20 years.
From the facilitator's experiences in teaching Career Management, Change Management and practising career counselling, meditation, shiatsu and other disciplines, this workshop will draw on the quadrant principles of the elements of air, earth, water and fire – mind, body, heart and spirit.
The Workshop is held at "The Woolshed", 144 Muri Road, Pukerua Bay.
Outline of the day:
*  Am I a fire, water, air or earth person?
*  Finding your element and its qualities
*  What are the qualities of the other 3 elements?
*  Is my organisation a fire, water, air or earth organisation?
*  Finding its element and its qualities
*  Fire, water, air and earth as an organisational process
*  Integration of self and organisation
*  The four communications – fire, water, air and earth speak
*  Some thoughts on harmony and balance
The day will consist of time to listen, time to think, time to talk, time to process, time to have fun, time to 'chill out', time to be still and go within, time to relax, time to be nurtured, time to eat, time to walk, stretch and honour the body.
This is a light-hearted workshop which will help you nurture yourself and your organisation.
By the end of the day you will have learned:
*   What element you are and its qualities
*   What you need in your life for harmony and balance and some
     strategies to achieve it
*   How to relate and integrate with other elements
*   What element your organisation is and its qualities
*   An elemental, easy process for achieving goals
*   Four new languages
*   An holistic, integrated way of looking at the world and yourself
*   That a day in the country is more beneficial than kicking the cat.
 I just wanted to further express my gratitude at the work that you put into the 4 Elements workshop.  I felt very nurtured (my water element coming out)! And felt you presented so well, bringing yourself into the workshop and running it in a professional and 'on track' manner!!  I got so much out of the content (and I am still laughing over our 'sales pitch to the panel').  The material out of the course will assist not only me personally with interacting with the world, but also in utilising the skills learnt, with identifying how best to relate to my clients, colleagues and those near and dear to me. Thank you once again Pamela – for your essence, humour and skill that you bring to the world!
Estelle Cainey
 We so enjoyed our Saturday on the other 4 Elements course that we'd love to join this one too.
Louise Mouzouri
Pamela also offers The Four Elements of Communication and The Four Elements of Relationship both of which have been very popular.